Posted by Sabrina Ajeep | 0 Comments
A Female Assassin in Sunset Overdrive?
On the latest episode of Sunset TV today, Sunset Overdrive developer Insomniac Games has taken a, shall we say, small jab at the lack of female characters surrounding Ubisoft's anticipated title Assassin's Creed: Unity. A little over a week ago, Ubisoft's technical director James Therien issued a statement to VideoGamer.com stating:
"A female character means that you have to redo a lot of animation, a lot of costumes [inaudible]. It would have doubled the work on those things. And I mean it's something the team really wanted, but we had to make a decision… It's unfortunate, but it's a reality of game development."
Ten days later, here we are viewing what seems to be a female character in Sunset Overdrive donning a similar wardrobe to Ezio Auditore in Assassin's Creed: Brotherhood. In the video below, Insomniac Games community manager Brandon Winfrey stresses that "self-expression is super important to us, so you can be female, you can be male, you can be different skin tones, you can be different body types and all the clothing is gender neutral."
"So if you want to be a dude in a skirt, you can be a dude in a skirt. Just be who you want to be. Take a stab at it," Winfrey said.
In the earlier segment of the video, Winfrey also discusses how traps can be used as a survivability tool to help defeat enemies primarily when the sun goes down. There are all kinds of traps available at your fingertips including an interesting Pandora's trap that is essentially a random box of deathly surprises.
To top it all off, Sunset Overdrive is an Xbox One exclusive that is slated for release on 28th October 2014 in North America, the exact same day as Assassin's Creed: Unity.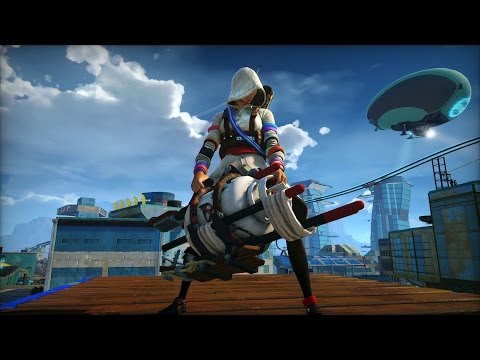 [Source: VideoGamer, Insomniac Games]