Posted by Sabrina Ajeep | 0 Comments
Warforged Nightmare: A New World of Warcraft In-Game Mount
If you don't play a Warlock and have long dreamed of adding a fiery steed to your collection, here's your chance. Just a few hours ago, Blizzard introduced the Warforged Nightmare to their archive of purchasable mounts in both the Battle.net shop and in-game Shop for World of Warcraft. Costing $5 more than the previous mounts, this steed is priced at $30 with the following perks:
It will be waiting in your in-game mailbox immediately after purchase
A BoA mount that automatically scales to the riding skill of your characters, respectively
Includes a Nightmarish Hitching Post that allows party members to summon a steed of their own for up to 20 minutes
Red streaks of flame also help make the mount's flying effect stand out against the vast skies of Pandaria. When reflecting back upon the Enchanted Fey Dragon's ever-changing chromatic scales and the Winged Guardian's shining gold trim, is the community themed  hitching post really worth the extra $5 above all other mounts? A mixture between the Alliance's Vicious War Steed and a Dreadsteed dipped in molten fire, check out the video below and decide for yourself.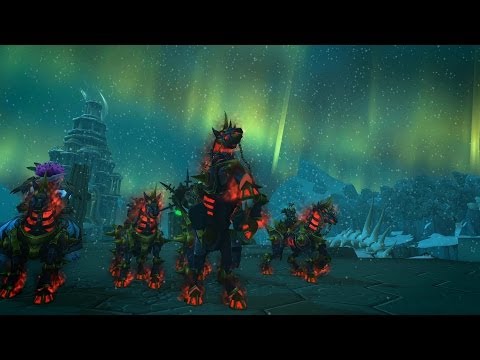 Source: Battle.net