Posted by Elizabeth Atkins | 0 Comments
2D/3D Puzzle-Platformer Contrast Launches Tomorrow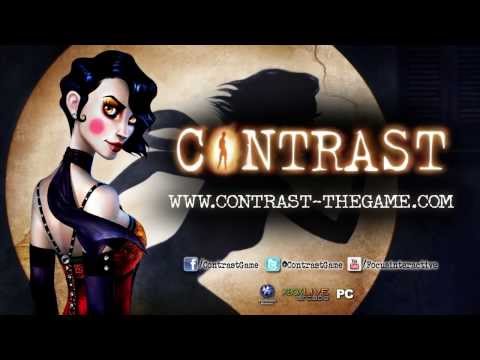 Compulsion Games released a brand new launch trailer for their upcoming 2D/3D puzzle-platformer title, Contrast. Back in September, we shared the link to the official website as well as new screenshots. Guillaume Provost, creative director and founder of Compulsion Games, comments:
"Creating Contrast was a journey, and ultimately a celebration of our craft. It is a story that came together by the efforts and support of our team, our partners, our  ans, and by the dedication of everyone who helped propel the game to such unexpected heights. We are deeply grateful and humbled by the community's reactions, and the overwhelming enthusiasm that at long last, helped bring Contrast to light."
This vaudevillian-inspired title places players into a dreamlike world as they control Dawn, the imaginary friend of a young girl whose family is rather unique with the cabaret singer mother and absentee father. Help Dawn as she shifts from the 3D world to a 2D shadowscape to help Didi reunite her family.
Contrast will be available worldwide for the PC, PSN for the PS4, and XBLA tomorrow. North American PS3 owners will have to wait until November 19th while European PS3 owners have to wait until November 20. Contrast will be available for PS4 owners in Europe on November 29.
[Source: Compulsion Games]