Posted by Elizabeth Atkins | 0 Comments
Knock-knock… The Visitors Are Here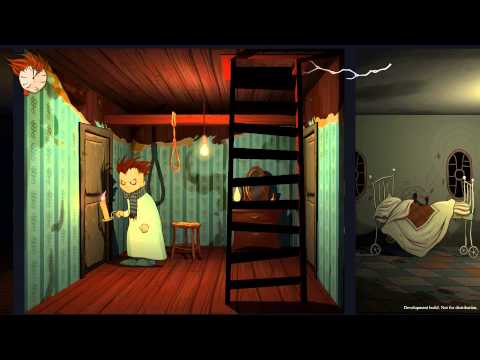 One of my favorite things about October is the sudden need to play and watch things that send chills down our spines. Sure, you can play horror games anytime of the year but there's just something about this month that adds to the suspense you'll experience.
Today, we learn that the indie game Knock-knock has been released on Steam after a successful Kickstarter run back in 2012 and getting Greenlit by Steam. What is Knock-knock? This indie title by Ice-Pick Lodge only asks you to remain awake and sane until sunrise in the unusual cabin you reside in that's in the middle of the woods. But it's not going to be easy when the Visitors come calling and some evil force is inside the cabin with you. As time ticks by, you'll need to make the rounds into each room to close off any entrances that would allow the Visitors to enter the cabin. Luckily, you can come across some useful items during the night. However, the fact that your bag can only carry five items means that what you find and can use will be different each night.
From the images in the gallery below and the YouTube video you can view above, it looks like Knock-knock might leave players on edge. If those don't, I think the story behind the game and how it fell into the hands of Ice-Pick Lodge's hands will. A mysterious email containing files that housed snippets of text, disturbing audio, and video recording broken into fragments. The plea of the sender asking the developers to finish what was started. A project that seemed to bring some ungodly fate to the original compiler. A fate that could befall Ice-Pick Lodge.
Instead of doing what most of us would have done and deleted the email, the developer decided to bring this game to life. Perhaps the pull it had was too strong to deny or just maybe it's not really all that creepy.
Knock-Knock is available for the PC via Steam at the discounted price of $8.49, 15% off of $9.99. You can visit the website for more details.
[Source: Ice-Pick Lodge]