Posted by Sabrina Ajeep | 0 Comments
New Extended Gameplay Trailer for The Evil Within
In mid April, the curtains were lifted and revealed Shinji Mikami's next vision of "pure survival horror," The Evil Within. E3 2013 provided anxious viewers with a glimpse of what to expect in this dark and gruesome tale, featuring a monstrous behemoth and some chainsaw action…to say the least. In the new extended gameplay trailer below, viewers are provided with a more hopeful alternative for our protagonist as he successfully escapes the gruesome death that left us hanging in the first video. Around the four minute mark, the situation gets a little tense as blending in with the shadows become your primary mode of escape to save yourself  from a chainsaw wielding sociopath.
If empty wheelchairs in an abandoned asylum isn't creepy enough as a typical horror scenario, the outside world holds even more surprises for you as well – we're not just talking about a post-apocalyptic environment but also some undead pals that you'll run into as you explore your surroundings. Oh and let's not forget about waves of blood that serve as "portals" to different dimensions along with trails that lead to Kayako-esque monsters from the Ju-On series but with more hands (of course).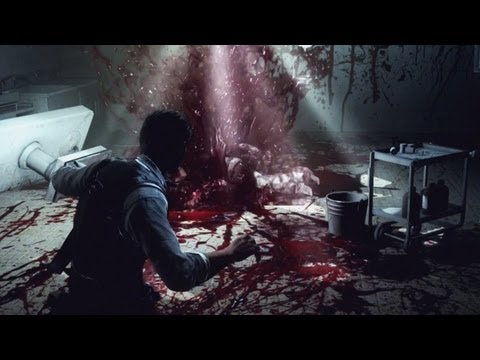 The Evil Within is slated for release for the Xbox One, Xbox 360, PlayStation 4, PlayStation 3, and PC in 2014.
[Source: Bethesda]