Posted by Elizabeth Atkins | 0 Comments
New Rocksmith 2014 Edition Trailer Released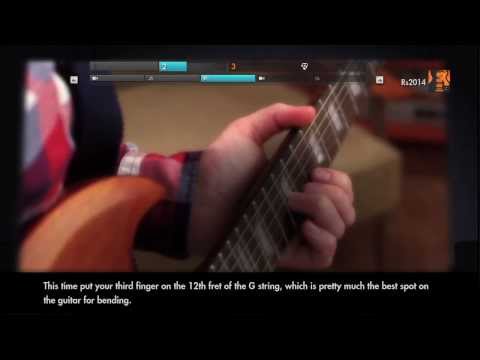 Ubisoft released a new trailer for the upcoming music title, Rocksmith 2014 Edition. This game isn't just one of those titles that have you playing on some plastic instrument. Rocksmith helps players actually learn how to play a guitar. Not many games can make that claim.
In the new trailer that you can view above, we can see the new features added as well as revamped ones. Providing you with instant feedback, Rocksmith 2014 Edition will let you know not only what was done wrong but also how to correct it. With the new "Riff Repeater" mode, players can select and play a riff over and over until you feel as is you've mastered it. The "Master Mode" helps to make playing by memory a lot easier and there are "Guitarcade" mini-games that help to hone specific skills.
In addition to the new features, there are over 50 new songs that you can play. Below is just a small taste of what you can find:
Muse – Knights of Cydonia
Alice Cooper – No More Mr. Nice Guy
Nirvana – Heart Shaped Box
Aerosmith – Walk This Way
Alice In Chains – Stone
Arctic Monkeys – R U Mine?
Avenged Sevenfold – Bat Country
Bob Dylan – Knockin' On Heaven's Door
Iron Maiden – The Trooper
Jack White – Sixteen Saltines
Kiss – Rock And Roll All Nite
Mastodon – Blood and Thunder
Oasis – Don't Look Back In Anger
Pantera – Cemetary Gates
Paramore – Now
R.E.M. – Losing My Religion
Radiohead – Paranoid Android
Rise Against – Savior
Slayer – War Ensemble
The Kinks – You Really Got Me
The Rolling Stones – Paint It, Black
The Shins – For A Fool
The Smashing Pumpkins – Cherub Rock (with pre-order only)
The Smashing Pumpkins – The Chimera
The Who – My Generation
Weezer – Say It Ain't So
White Zombie – Thunder Kiss '65
Rocksmith 2014 Edition is set for an October release for the PC, PS3, and Xbox 360. You can check out the official site for more details.
[Source: Ubisoft]