Posted by Andrew "Andy" Deavin | 0 Comments
Keiji Inafune Reveals Mega Man Spiritual Sequel, Thanks To Kickstarter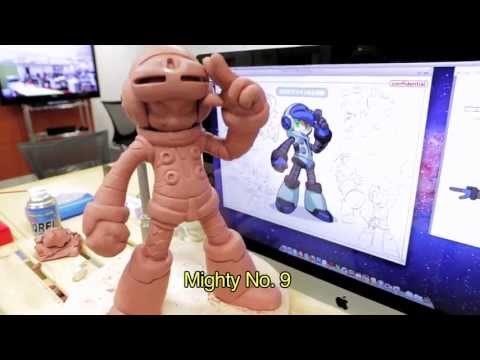 In case you somehow don't know, Keiji Inafune is some kind of golden god of videogames. When working at Capcom, why, he created such classic and memorable IPs as Mega Man, Ominusha, and Dead Rising! That's what he says himself, at any rate, in the video above – recounting the glorious 23 years of his game-changing creations with one of Japan's largest publisher-developers.
With the cancellation of Mega Man Legends 3, and his leaving Capcom to start his own company and make his own games, a lingering thread was left between him and his devoted fans. So he's taken to Kickstarter to create a game that isn't legally Mega Man, but… look, it basically is just a new Mega Man. It's called Mighty Number 9, and it looks… what's the word I'm looking for… "magical"? Yeah. It looks like magic, baby.
With a $900,000 initial goal, Mighty Number 9 is slated to come out on PC, with stretch goals for Mac, Linux, and console versions. And don't you fret your heads over it not being funded – it's been less than a day, with 30 remaining, and at time of writing the project has hit $434,527 with 6,871 backers. And that number keeps going up. What does this mean? Why, for Mega Man fans, this means… and I hope you're sitting comfortably in your chair for in case this sentence blows you away: there's going to be a new Mega Man game.
It may not be Mega Man as Capcom owns it, but let's consider the variables here: it's Mega Man's dad, and Mega Man's fan's monetary contributions, and so as far as you should be concerned, this is the best possible outcome for Mega Man's future. No longer will the Blue Bomber be confined to Capcom's scaly clutches – now that Inafune has an outlet to fund and create Mega Man games sans Capcom… well, you can only imagine, right? You can only imagine. And combine that with Inafune's insistence that the game should be developed with the feedback of the fans as a top priority… wowee. That there is some genuinely riveting stuff.
Mighty Number 9. It's proper happening. Get hyped.
[Source: Kickstarter]