Posted by Steven O'Shea | 2 Comments
EV's Will Now Be Viewable, Trainable in Pokémon X/Y
For anybody that plays Pokémon on a competitive level, you're about to cry with pure tears of joy, as the main problem of competitive battling–not being able to see or train EV's in the game–has been fixed in Pokémon X/Y.
Be ready: meet the brand-new feature, Super Training, a new training feature to be introduced that will finally allow players to train EV's of their Pokémon to their liking. For people who played previous generations of Pokémon, getting EV's right either required a load of skill, time, and patience, or required a cheating device, or a hacked system to do, which as we all know, is wrong. A "Core Training" feature is also being added, which is pretty much a simpler mode of Super Training.
EV's will now be visible for the first time along with a new feature called Effort o Meter that will allow trainers to track current EV spread and how many points that Pokémon has left. For anybody that plays, or wants to play Pokémon to this sort of level will, and should, be kissing Game Freak right now. It's so great to see them making competitive battling much easier to access this generation.
While we are still crying with joy, I would like to also report that the leaks we reported from CoroCoro yesterday were in fact real, as Game Freak has today officially released details in English about the new additions to the Pokémon family and about Mega Pokémon. Here is a brief summary of what has been detailed:
the rabbit Pokémon Horubii is to be called Bunnelby

the Electric/Fairy-type Pokémon Dedenne will be known as Dedenne
 the pre-evolution of Gogoat, Meekuru will be known as Skiddo. It is rideable in the field
The Torchic distribution is also confirmed for North America and Europe
Next, the Gym Leader Koruni will be known in English as Korrina. She is the Gym Leader in Shalour City where the Tower of Mastery is
Finally, Mega Pokémon are real; the names are staying the same in English. Catch three of them going into super saiyan in the brand new trailer below: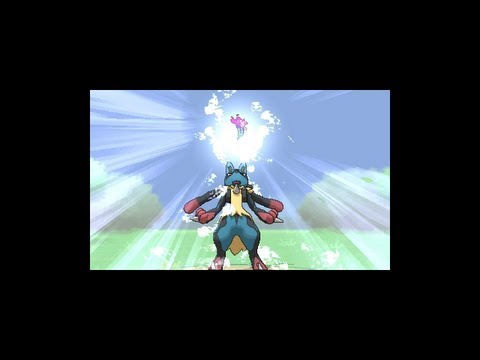 Also, grab a whole collection of screenshots in the gallery. Pokémon X/Y arrives on Nintendo 3DS on October 12th worldwide.
[Source: Serebii]