Posted by Sabrina Ajeep | 0 Comments
Square Enix's BLOODMASQUE Now Available for iOS
Ever wanted to fulfill your role as a vampire hunter? Or even better, a hybrid who has sworn to destroy the vampiric blood that flows within you for the sake of mankind. Square Enix's latest RPG for mobile devices BLOODMASQUE will send you to an alternate world of 19th-century Paris as you wage war against a vampire-controlled society. Now available exclusively for iOS devices for $6.99, you'll be able to put that built-in camera to good use and scan your face into the game to appear as the protagonist. Nothing like an added touch of realism! Check out the E3 2013 trailer below.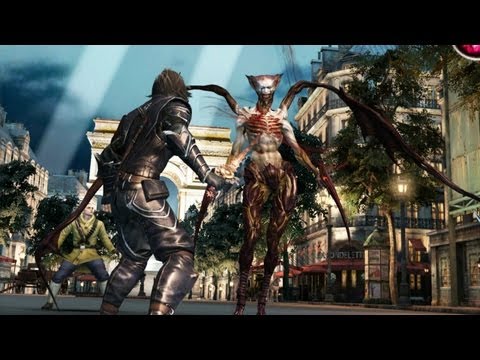 Beyond character customization, the game has other exciting features:
Intuitive Controls: Designed with the touch screen in mind, the simple controls will let you let you tap to attack and swipe to dodge without losing the thrill of battle.
A Hunter Brotherhood: Recruit comrades to fight these children of the night!
Blood Never Looked This Good: As always, Square Enix aims to deliver stunning visuals due to Unreal Technology powered action. Accompanying orchestral arrangements will only add to the rush of adrenaline as you find yourself immersed in the game.
Vampire after Vampire: The game's total playtime is clocked in at an estimate of 20 hours. There will also be a series of challenging combat trials after the main story's completion so don't worry about not getting enough blood on your hands. An assortment of in-game purchases will also be at your disposal to expand your experience and gameplay options.
BLOODMASQUE is supported on the following iOS devices: iPhone 4S and above, iPod touch (5th generation) and above, and iPad 2 and above.
For more details visit the App store or the official site: http://www.bloodmasque.com/ (even the official website has a sense of style).
[Source: Square Enix Press]