Posted by Sabrina Ajeep | 0 Comments
New Assassin's Creed IV: Black Flag Gameplay Trailer
If recent screens of great white sharks and naval warfare hasn't quite quenched your thirst for Ubisoft's highly anticipated title Assassin's Creed IV: Black Flag, then check this out. Ubisoft has released a 13-minute gameplay trailer that showcases open-world gameplay with an exclusive commentary by Game Director Ashraf Ismail. Here, Edward Kenway is tied to no specific campaign mission but is simply seeking fame and fortune. The map shown is massive, giving players great freedom to explore the Caribbean on land or at sea.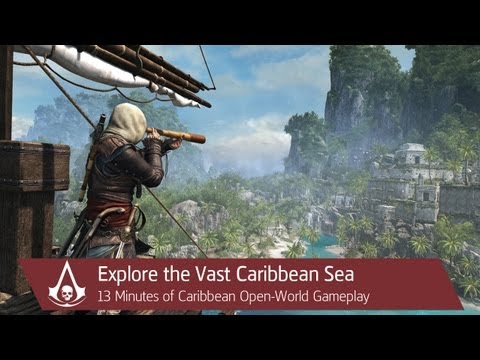 What truly stands out to me is the flexibility that a player is entitled to. Taverns, for example, allow players to hire crew members, play mini-games, or even order some rum on a hot day out. Furthermore, after Edward assassinates his target, the scene switches from land to sea within minutes and even whilst on board, we're given several options to decide what the next move will be. For those who desire to shoot first and talk later, destroying the enemy ship would seem ideal yet on the more monetary side of things, plundering kegs of rum is a more profitable option. After the mission is completed swiftly, we discover uncharted territory, brace fearsome storms, and find a treasure map. Opportunities seem endless in ACIV, and we're barely getting the tip of what else we can expect to achieve within the game. It's a pirate's life, and a rather good one thus far.
Assassin's Creed IV: Black Flag will be released on the PlayStation3, Xbox 360, and Nintendo Wii U on October 29, 2013. Versions for next-gen consoles will be available at launch.
[Source: Ubisoft]