Posted by Michael Mamon | 0 Comments
Indie Studio Announces Stone Wardens
Independent game development studio, Burst Online Entertainment, has recently announced the upcoming title Stone Wardens for PC, Mac, and Linux. Stone Wardens is a different take on both the tower defense and third-person action-RPG genres. In Stone Wardens, you and three of your friends can join together to protect the Wardens' homeland from numerous waves of invaders.
Players can choose from a number of different classes ranging from Wizards to Ninjas with each having a unique set of abilities. As you progress through the many waves accumulating experience, you will be able to upgrade gear and unlock familiars who aid you in your defense.
These Wardens can also summon unique Ancestral Guardians (Towers) to help deal damage on the battlefield.
Other Key Features include:
Boost System: Players can adjust the difficulty or "boost" level of a challenge; the higher the boost the tougher the challenge and the higher the rewards. Stone Wardens has leaderboards for players to compare performance on the various boost settings for each challenge. Defeating the invaders on a challenge is great, but can you do it at a higher boost? Can you do it playing solo, how about with 1, 2, 3, or more friends?

Familiars: Wardens can unlock a wide variety of familiars (pets), which gather spirit, upgrade guardians, and help their Warden directly when they are nearby. Managing the supply of spirit through commanding your familiar is a skill; deciding when harvesting new spirit is more important than upgrading or getting the benefit of having your familiar nearby to use its unique special ability.

Cooperation: Your Warden's abilities can set up other Warden's abilities to create new outcomes. Is that Goblin Scrambler encased in ice? Then hit him with a fire attack to try and get a steam bonus, or use a physical attack to try and shatter him, causing secondary damage to nearby invaders

Invader Abilities: The invaders have many abilities that can affect yourWarden as well as each other. Just as the Warden's abilities can cause different results depending on what other abilities are used, the same is true for the invaders.

Persistent Service: You can play online with friends, or find new people to play with. We will continue to update your game experience for years to come with new challenges, gear, familiars, and Wardens.
Indie studio, Burst Online Entertainment, is full of talented designers, developers, and artists who have worked on games like Guild Wars, Left4Dead, and Halo, so there is much to be excited for come launch day. Stone Wardens is currently going through crowd funding on Kickstarter, and Alpha and Beta access are offered to those that become backers. For more information you can visit the Stone Wardens' website here.
Are you excited for this upcoming title? We'll keep you posted on all things Stone Wardens, here on Vivid Gamer, but for now check out its latest trailer: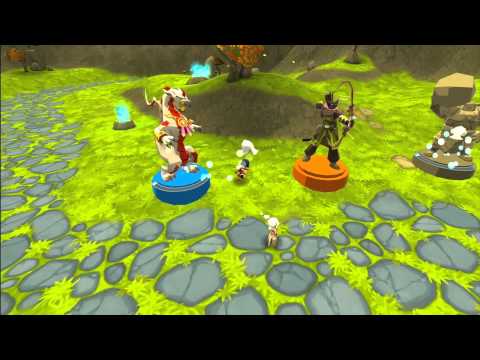 [Source: Burst Online Entertainment]