Posted by Steven O'Shea | 0 Comments
Lightning Cosplay and Hope Appears in New Lightning Returns Details
As they always do, Square Enix have released some new media as well as details on the final chapter in the Final Fantasy XIII saga; Lightning Returns: Final Fantasy XIII.
The big story today is the pre-order bonus gamers in Japan will be getting (which Sony has confirmed for the West, too). After all the times fans claimed that Lightning is just Cloud 2.0, their dreams have come true. As a pre-order offer, players will get a Cloud costume for Lightning, Buster sword and all. Square Enix have confirmed that the costume will give unique abilities, a new victory pose like Cloud's in Final Fantasy VII and a remixed victory theme from Cloud's game as well. This is not the only character-themed costume the game will be getting; during E3, a costume themed around Yuna was also confirmed.
In other news, Hope's design got confirmed finally, and sadly it's just him in his original costume from Final Fantasy XIII, rather a confusing move from the company if I say so myself. Hope will be giving Lightning missions which, when completed, will increase the time before doomsday. Finally, a short video as well as some new screenshots were shown. Catch Hope and Lightning's Cloud costume artwork as well as the video below.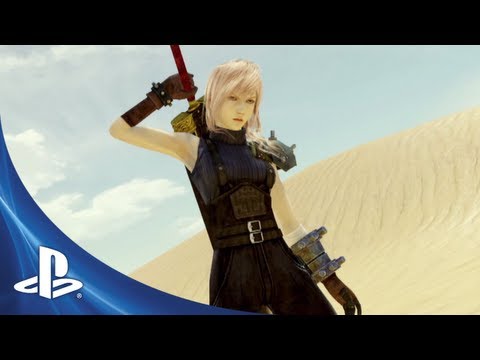 Lightning Returns: Final Fantasy XIII launches on November 22nd in Japan, while the US will see the game on February the 11th and the EU will get the game on February 14th.
[Source: Siliconera]