Posted by Sabrina Ajeep | 1 Comment
New Infamous: Second Son Gameplay Trailer
A new gameplay trailer for Infamous: Second Son has been released and it promises a ton of fast-paced action. You'll have to think quick on your feet to defend yourself from rapid gunfire and take down your enemies at the same time. Set in Seattle, Washington, you'll be filling the shoes of our overconfident graffiti artist Delsin Rowe as he learns to master his newly awakened Conduit abilities. As far as we can tell, his battle against the Department of Unified Protection (DUP) will be a fun one.
Delsin's techniques appear to be highly varied, which gives players the freedom to strategize between long and short ranged attacks. The map is also vast as our hero leaps from one building to the next regardless of height. With enemies scattered all over, the environment  is at our disposal to manipulate as players take out each hostile target to complete a certain objective as witnessed near the end of the demo. The subtle but pumping music in the background also helps to boost that extra adrenaline rush before executing an explosive move, to say the least. Although the game's UI and controls are not revealed, it looks like we'll be combining a multitude of swift ground attacks to gain enough momentum for a finishing blow. Or maybe that's just how we'll conclude every little mission: in style.
Infamous: Second Son launches in early 2014 exclusively for the PlayStation 4.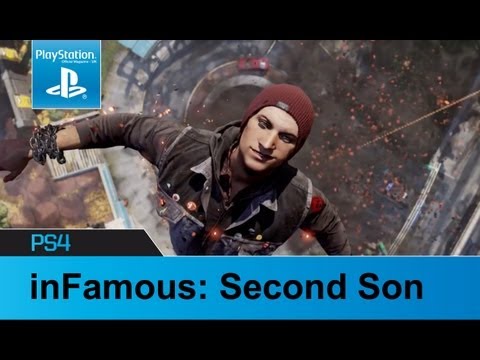 [Source: OfficialPSMag Image: InFamous Wiki]