Posted by Rubin Quarcoopome | 0 Comments
Help Bring Ethan: Meteor Hunter to Steam
Steam Greenlight is a wonderful service, giving creative game developers the chance to bring their hard work to the masses. Simply voting "Yes" can mean the world. One of the newest ambitious games hoping for a spot in the sunlight is Seaven Studio's Ethan: Meteor Hunter.
Ethan: Meteor Hunter begins with the eponymous rat hero being struck on the head by a meteorite, which in turn gives him a variety of incredible powers and abilities. Ethan suddenly finds that he can freeze time and use telekinesis. Now invigorated and superpowered, the spirited rat is called upon to journey across 50 levels and 3 unique worlds completing challenging puzzles and overcoming whatever dangers await him. The game also features a powerful, Little Big Planet-esque physics engine and multiple ways to complete the game, adding a nice amount of replayability to the experience. The entire atmosphere is decidedly charming, and the premise has the added bonus of most people simply not knowing enough about rats or meteorites striking said rats to claim it could never happen in real life.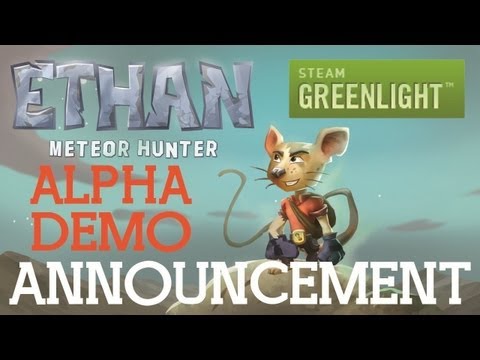 Support Ethan: Meteor Hunter over at its Steam Greenlight page and help bring it to life. Seaven Studio will also be present at various game conventions, including Rezzed (June 22nd-23rd in Birmingham) and Gamescom (August 21st-25th in Cologne), for those excited to meet the developers of this ambitious new platformer.  Be sure to take a look at the game in action below.
[Source: Seaven Studio]