Posted by Steven O'Shea | 0 Comments
Virtual Reality Treadmill Funded on Kickstarter in Hours
A virtual reality device called the Virtuix Omni got funding from a kickstarter project in a matter of hours.
The project went live on the Fundraising site Kickstarter earlier today. With a pace of $1000 a minute, at the time of writing this article, over $200,000 has been raised for the company to ship initial stock. The Omni is a virtual device which features a treadmill that allows players to explore a full and almost real environment created by the system. The Omni can be brought for a rather cheap $299 (£229 for people in the UK,) with a more expensive model available for $399 (£260). All of the cheaper models are out of stock, and shipping to the UK is not going to come cheap; expect to pay out over £100 in shipping costs.
In a statement to Eurogamer, Jan Goetgeluk, founder of the company had this to say:
"The Omni is the result of two years of researching, experimenting, prototyping and designing, We've done a lot of work, and now we're turning to the community to get the Omni through the manufacturing phase. With the help of the community we can start tooling, and get as many Omnis as possible in the hands of VR gaming enthusiasts. Our Kickstarter rewards also come with a significant discount on the Omni's future retail price."
Help out with the project by hitting the Kickstarter Page. Also be sure to view the video below of the Omni running Team Fortress 2, Keep on the watchout on Vivid Gamer for more on the device.
Omni Running Team Fortress 2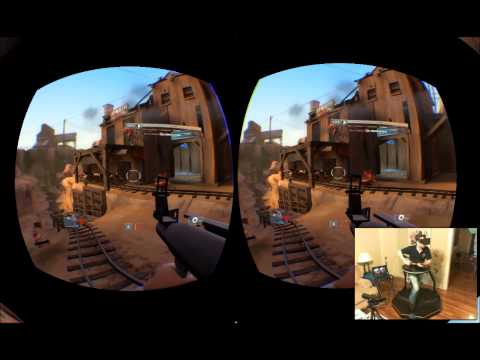 [Source: Eurogamer]