Posted by Jerry Jacquez | 0 Comments
Meet Mass, Scourge: Outbreak's Newest Character Detailed
UFO Interactive  shed some light on one of their characters in their new arcade title Scourge:Outbreak. Mass, a seasoned and former member of the SAS, frustrated with the politics of the British military, has taken on a new  quest against the Nogari Corporation for the travesties they've committed against humanity. He along with Echo Squad plan to use their  Ambrosia suits against the Nogari Corporation in a search to recover the source of power behind their suits and to keep it out of the hands of their corrupt enemies greedy clutches.
Mass will be the power house tank character in the group dynamic, players who choose to play him will be the ones who are up close and personal with the enemy taking advantage of Mass's ambrosia powered shield that can crush any enemies defenses and his powerful shock wave ability that will use a large portion of his ambrosia. Ambrosia being the power source behind each characters special ability that assists the group in battle.
Echo Squad – MASS Trailer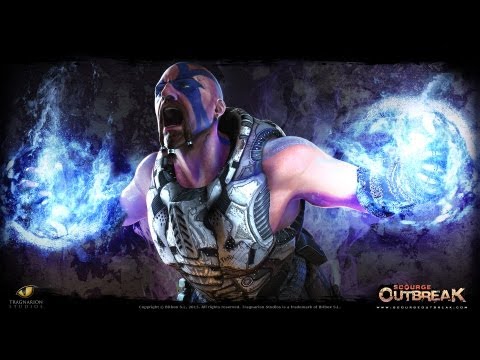 Scourge: Outbreak is an 4 player co-op shooter, where each playable character will have their own flashbacks specific to them giving the game  four different view points of the story along with the four different ways to play the six hour campaign. Scourge :Outbreak will also include a multi-player system where players can earn Xp and level up their character to unlock special abilities and weapons, it will also accommodate to player who will not fill the four playable slots with AI units to carry their weight and then some throughout missions. It will be hitting the Xbox Live Marketplace on July 3rd for 800 Microsoft points.
Here's some the key features of the game:
Up to 4-Player Co-op Campaign with 6+ hours of gameplay
4 Playable Characters, each with different weapon handling stats and a distinct combination of Special Abilities
Unique character-specific flashbacks that reveal critical past events, and shed a new light on the game's story
XP system to track your experience and unlock powerful gameplay rewards in Campaign AND Multiplayer
Squad AI for groups with less than 4 Players
Quick-Order-System (QOS) for rapid deployment of squad-members
9 Weapons, plus multiple variants of each to suit your style of play
Up to 8 Players in Deathmatch, Team Deathmatch and Capture-The-Flag multiplayer Versus modes in 5 action-packed maps!
Leaderboards for competing with friends and other Players around the world!
Challenging Achievements to unlock
[Source: UFO Interactive]