Posted by Elizabeth Atkins | 0 Comments
Shin Megami Tensei: Devil Summoner: Soul Hackers Official Release Announced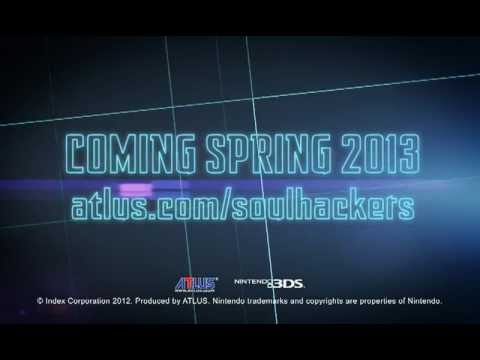 Since its Japanese release nearly 16 years ago, ATLUS' Shin Megami Tensei: Devil Summoner: Soul Hackers has eluded North American gamers. But that is soon to chance as the company behind the popular SMT series has announced today that 3DS owners will get the opportunity to experience the long-awaited title when it comes out next year.
This first-person dungeon-crawler is set in the future where technology and demons are commonplace. A city which harbors a mystical secret, one that could control the fate of humanity as soul hackers go against an ancient society. As with other entries in the series, players choose between wiping out the opposing demons that fight them or sweet talk them into aiding the player.
With Shin Megami Tensei: Devil Summoner: Soul Hackers coming to Nintendo's 3DS, ATLUS is not only bringing the 1997 title to North American fans but adding some extra features as well. The 3DS version will offer 30 additional demons to negotiate with, a new opening, improved controls, and quicker loading times. This isn't all though. The bottom screen for the 3DS can be used as an auto-mapping function. Also, a new dungeon is unlocked once you finish the game for the first time. In this dungeon, you will get the witness the appearance of Raidou Kuzunoha from the previous Devil Summoner titles.
If you're like me, this news has me stoked and already wishing that 2013 would get here. Until then though, we do have some great screenshots to drool over. Shin Megami Tensei: Devil Summoner: Soul Hackers will arrive in Spring of 2013. Stay tuned as we bring you more news.
[Source: ATLUS]