Posted by Elizabeth Atkins | 2 Comments
WWE '13 Full Roster Reveal Plus Talent Artwork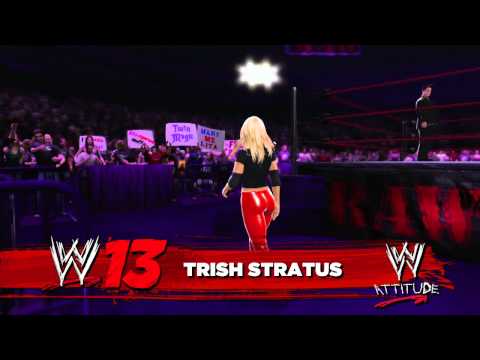 Love it or hate it, wrestling has been around for ages. Most of us might have watched the great superstars like Bret Hart and Hulk Hogan. Wrestling games date back the NES era and have only gotten better. In fact, you might feel that the current wrestling titles are better than the actual shows. Yesterday, THQ released the full roster list for the upcoming WWE '13 video game during the Summerslam Axxess festival.
Alberto Del Rio
The Big Show
Booker T
Brock Lesnar
Brodus Clay
Chris Jericho
Christian
CM Punk
Cody Rhodes
Daniel Bryan
David Otunga
Dolph Ziggler
Edge
The Great Khali
Heath Slater
Hunico
Jack Swagger
JBL
John Cena
John Laurinaitus
Justin Gabriel
Kane
Kevin Nash
Kofi Kingston
Mark Henry
The Miz
Primo
Randy Orton
Rey Mysterio
The Rock
R-Truth
Santino Marella
Sheamus
Sin Cara
Epico
Ted DiBiase
Triple H
The Undertaker
Jinder Mahal
Wade Barrett
Zack Ryder
Alicia Fox
Beth Phoenix
Brie Bella
Nikki Bella
Eve Torres
Kelly Kelly
Kharma
Lita
AJ Lee
While this list here is impressive, it's the following one that will likely appeal to those who enjoyed the days of the Attitude Era. Now, you'll have the chance to see just who will come out on top in a match that pits Stone Cold Steve Austin against the current WWE Champion CM Punk. Or perhaps you think it's time for Trish Stratus to show the current divas just how it's done. Here's the list of Attitude Era superstars and divas that will also be available when WWE '13 comes out this October:
Mike Tyson
Road Warrior Hawk
Road Warrior Animal
Bradshaw from The Acolytes
Farooq from The Acolytes
Big Boss Man
Billy Gunn
Bret Hart
British Bulldog
Cactus Jack
Y2J
Christian
Dude Love
Eddie Guerrero
Edge
The Godfather
Hunter Hearst Helmsley
Kane
Ken Shamrock
Mankind
Mark Henry (from The Nation of Domination)
Mr. McMahon
"The Big Show" Paul Wight
Road Dogg
The Rock
Shane McMahon
Shawn Michaels
Steve Austin
Triple H
The Undertaker
Vader
X-Pac
Lita
Stephanie McMahon
Trish Stratus
We also have some very nice looking talent artwork of just a few of the superstars you'll be able to find in the game. Overall, I'm impressed with the sheer number of superstars and divas you'll be able to use.
WWE '13 is set to release in North America on October 30th. THQ is also offering a Collector's Edition that is similar to the one released alongside last year's WWE '12. This year's Collector's Edition features none other than the Texas Rattlesnake, Stone Cold Steve Austin. Aptly named the "Austin 3:16″, it will include exclusive foil packaging with the embossed Stone Cold Steve Austin skull, collectible art card that's personally signed by Steve Austin, in-game attire and ATV entrance for the Stone Cold Steve Austin character, and the "Stone Cold Steve Austin: The Bottom Line on the Most Popular Superstar of All Time" DVD. Of course, this edition comes with a copy of the WWE '13 game plus access to pre-order bonus Mike Tyson.
[Source: Examiner.com; THQ]