Posted by James Damian | 0 Comments
Xbox Marketplace Update: June 13, 2012
Hopefully everyone enjoyed E3 and all the announcements coming out of the convention. Unfortunately, Microsoft didn't seem to have much exclusives for their Xbox 360 gamers but the Summer of Arcade is just around the corner and it looks to be as exciting as previous ones. We've got a former Summer of Arcade title on sale this week as well as a new "God-Sim" addition to the XBLA marketplace.
Deal of the Week
From Dust – 1200 pts 800 pts – There's only one deal this week though it's for a pretty good game on XBLA. Help guide and grow your tribe avoiding hazards as they traverse the ever changing terrain in From Dust. It's not the greatest deal of the week, but definitely check out this strategy game when you get the chance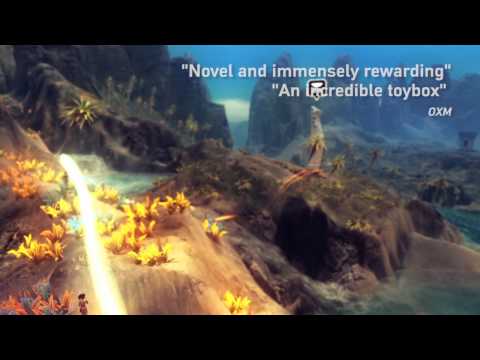 Xbox LIVE Arcade
Release Date: June 13, 2012
Price: 800 pts
Developer: Mando Productions
Publisher: Ubisoft
Babel Rising lets you play as a God and use your powers to prevent humans from building the tower of Babel. Hurl bolts of lightning, cause massive earthquakes, or unleash gigantic floods upon the Babylonians. Face a wide range of challenging enemies and levels and use the motion controllers to get a unique feeling of power! (Be warned: This is a Kinect title and unfortunately, signs are pointing to this being a terrible game.)
Games on Demand
Family Game Night 4: The Game Show – $29.99 – In FAMILY GAME NIGHT 4: THE GAME SHOW, you can experience the fun and excitement of the popular TV show right in your own living room! This time you're playing with larger-than-life pieces in re-imagined versions of your favorite Hasbro games. CONNECT 4 Basketball is more fun than ever as you shoot hoops to get 4 balls in a row and YAHTZEE! Bowling puts a whole new spin on the popular dice game. You'll also find fun new versions of SCRABBLE Flash, SORRY! Sliders, and BOP IT Boptagon, and win MONOPOLY Crazy Cash, just like the game show! Play with friends and family and compete to prove your family is the best!
Jonah Lomu Rugby Challenge – $39.99 – Experience the emotion and adrenaline of world class rugby union from club rugby through to international competition. * The only game featuring exclusively the All Blacks & Wallabies. Game also includes USA Eagles, Super Rugby teams, ITM Cup, Aviva Premiership, TOP 14 Orange, RaboDirect PRO12, and more. * Create and customise players, teams, and competitions. * Featuring Rugby Legend Jonah Lomu. * Multiple game modes including Tutorial Mode, Quick Match, Competition Mode, or the multi-year Career Mode. * Online multiplayer including 4 vs 4 head to head play and leaderboard competition.
Nicktoons MLB – $29.99 – Nickelodeon's Animated All-Stars take on Baseball's Best in Nicktoons MLB! The epic showdown that fans of America's favorite pastime have been clamoring for is on! For the first time, an all-star roster from Nickelodeon's Nicktoons series including SpongeBob, Dudley Puppy and Fanboy and Chum Chum, will take on players from all 30 MLB teams, delivering not only an unforgettable baseball gaming experience, but also the first to fully take advantage of Kinect for Xbox 360.
Notable DLC
Saints Row: The Third: Witches & Wieners Pack – 240 pts – For those who wish to be more than they are, there's the Witches & Weiners Pack. Now dress yourself as the best mascot in town, the Hot Dog. Just hope your enemies aren't hungry. Or sneak around and shoot people in the back as a Ninja. A halo and horns shows who's naughty or nice. Want to channel your inner witch? Go ahead and dress the part while riding your broomstick through the air!
Dance Central 2: Replay – Iyaz – 240 pts - Master new moves and build your track library by purchasing this song/dance: "Replay" by Iyaz.
Rocksmith: Queen Song Pack – 960 pts – Play "Bohemian Rhapsody", "Stone Cold Crazy", "Fat Bottomed Girls", "Keep Yourself Alive" and "Killer Queen" by Queen on any electric guitar. Each song includes a new authentic tone accessible in AMP mode.
That's it for your Xbox Marketplace Update this week. Major Nelson listed a Personalization Sale set to start today featuring various publishers, but unfortunately I couldn't find any details on it nor did Major Nelson reply to me himself. Come back every Wednesday for everything important on the Xbox Marketplace.
[Source: Xbox]