Posted by Kyle Prahl | 0 Comments
PlayStation Plus May Preview: Free Games, Big Discounts, and More
The month of May traditionally signals the end of Spring and Summer's early days. Perhaps it's fitting, then, that a deluge of free games is coming to PlayStation Plus just in time for summer vacation. Much like this year's freebie-laden February that brought Plus members Far Cry 2, The Simpsons Arcade HD, and Final Fantasy V, May looks to be an excellent month for the PlayStation faithful.
The month's first Store update will take place on Tuesday, May 1. At that time, Plus members will be able to download gorgeous co-op Trine 2, the newly-released Awesomenauts, and two Castlevania PSone Classics – all free of charge.There's certainly plenty of reason for excitement; Trine 2 is a critical darling lauded for its "dazzling fantasy world" (IGN) and for being "one of the most attractive and rewarding games available on the PSN" (PSXE). Meanwhile, Awesomenauts is best described as a 2D multiplayer fragfest dressed up as a Saturday morning cartoon. Not sure what that means? Check out the promo below.
Meet the Awesomenauts Trailer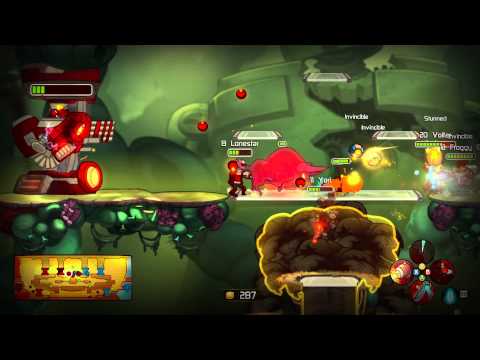 May's goodies don't stop there. On May 1, Plus members will also receive exclusive beta access to PixelJunk 4am, a musical Move experience and latest in the PixelJunk franchise from developer Q Games. Meanwhile, May 15 brings another free game. Rock of Ages combines tower defense with boulder-rolling for an utterly unique game that critics praised upon release for Xbox 360 and PC last year.
Meanwhile, the discounts and full game trials available during May are extensive. Take a look at the full list below.
Full Game Trials
Battlefield: Bad Company 2 – 5/1
Disney Universe – 5/1
Saints Row The Third – 5/8
Assassin's Creed Revelations – 5/15
Batman Arkham City – 5/15
Rayman Origins – 5/15
Need for Speed The Run – 5/15
Super Street Fighter IV Arcade Edition – 5/22
Tom Clancy's Ghost Recon Future Soldier – 5/22
Discounts
Datura – 5/8 (PS Plus Price – $7.99)
Disney Universe – 5/1 (PS Plus Price – $15.00)
Rayman Origins – 5/15 (PS Plus Price – $15.00)
Saints Row The Third – 5/8 (PS Plus Price – $47.99)
Yep, you read that right: no less than NINE PS3 Full Games will be available for free 60-minute trials. Every one of these games is currently unavailable on the PlayStation Store, which means that all will be debuting as digital downloads during the month of may. Make sure to dive headfirst into these trials if you're a Plus member.
Finally… Rayman Origins for $15?! If you don't already own this fantastic platformer, do yourself a favor and buy it. You won't find it cheaper anywhere.
What I'll Be Playing:
Rayman Origins
Batman Arkham City Full Game Trial
Trine 2
Castlevania: Symphony of the Night
Sound off in the comments and let us know what you think of May's PlayStation Plus content and what you'll be downloading.
Thanks to the official PlayStation Blog.