Posted by Kyle Prahl | 0 Comments
Huge PS3 Reveal Set for Friday; Evidence Builds for "PlayStation All-Stars Battle Royale"
Gamers have known for some time that SuperBot Entertainment, a newly-minted second-party studio owned by Sony, is in the midst of development on a PS3 blockbuster exclusive. Word first broke on this mysterious game back in August, when two separate job listings posted on Gamasutra by SuperBot detailed that programmers were needed for a "combat heavy" game sporting online modes and matchmaking traditional to console gaming. SuperBot's company website claims that they are an independent game studio developing exclusively for Sony Computer Entertainment America.
As time went on, the plot thickened. Back in November, images leaked online that supposedly confirmed the existence of a PS3 brawler called Title Fight. The game was reported to be a multiplayer fighting game fashioned after Nintendo's immensely popular Super Smash Bros. series, featuring PlayStation favorites like Sly Cooper, Jak, Kratos, PaRappa the Rapper, and more. The Paul Gale Network was able to capture images and tweets from Senior Level Designer Chris Molina's personal Twitter account. Some of these tweets include:
The character artist sitting a row ahead of mine is modeling polygonal female boobies. Carry on…

Slam! Second level design pitch approved by our studio leads! Now onto Sony Santa Monica for a final green light.

New Sony PlayStation commercial vaguely foreshadowing our soon to be announced title - http://www.youtube.com/watch?feature…&v=HBuK3EcY6vk

Checking out the original art assets from a Sony IP title we're appropriating for my level – very cool seeing this environment in raw form.

Our studio fighters getting their brawl on http://twitpic.com/6au76k
What did these tweets tell us? First off, SuperBot is borrowing assets from at least one Sony-owned franchise for use with constructing a level in their game. The most obvious and logical conclusion is that this content (be it artwork, textures, or what have you) is being used to recreate the feeling of another game for a particular level. Furthermore, Sony's "Michael" commercial, featuring an amalgam of PlayStation characters both new and old, is in some way representative of SuperBot's game. For even more Smash Bros. indication, take a look at the image below (also tweeted from Chris Molina's personal account, which no longer exists).
While hard to look at, this view of a developer monitor makes mention of game assets related to Sweet Tooth, Kratos, and Carmelita (presumably Carmelita Fox of Sly Cooper fame). Several PlayStation characters appearing in close proximity within a single game's debug code, along with the above-mentioned tweets and a picture of Sweet Tooth's supposed in-game character model, did nothing to douse the rumors that SuperBot's job listings fueled.
For some time after these details surfaced, things were pretty quiet on the Title Fight front. That is, until April 3, when PlayStation Lifestyle received a reader tip about an email questionnaire from Sony that made mention of a game called PlayStation All-Stars Battle Royale. The reappearance of what could be SuperBot's mysterious project sent Internet-dwelling gamers into a fervor. This excitement only blazed brighter when, just this past Saturday, GTTV host Geoff Keighley tweeted that a "huge new PS3 exclusive" would make its world-exclusive debut on GTTV Thursday, April 26.
Geoff's enigmatic tweet sent our friends at PlayStation Lifestyle into action once again, and the site reported later that day that Sony Computer Entertainment America had indeed registered the domains http://playstationallstarsbattleroyale.com/ and http://playstationallstars.com/.
Now, as the date and time of unveiling approaches, a promo for GTTV's Thursday episode has revealed that the PS3 exclusive in question is, in fact, the debut game of SuperBot Entertainment.
GTTV Episode 516 Promo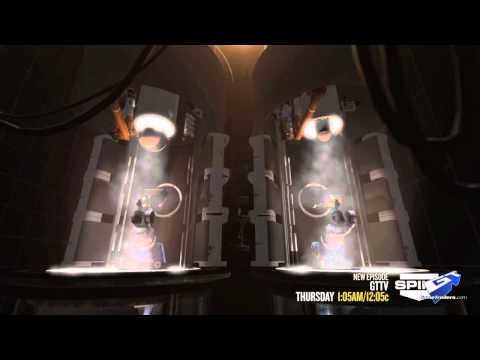 The future of PlayStation will be known Friday morning at 1:05 AM Eastern Time when GTTV airs live on Spike TV. If you can't afford to miss sleep that night, keep it locked to Vivid Gamer – we'll have the full report on SuperBot's PS3 exclusive waiting for you when you wake up.