Posted by Eric Galaviz | 0 Comments
LittleBigPlanet Karting: New Info, Trailer and Screenshots
Today via a press release, Sony has officially announced LittleBigPlanet Karting is coming to the PS3. The next title in the popular franchise is being developed by United Front Games in collaboration with Media Molecule. LBP Karting is scheduled for a 2012 launch date, and will provide a new gaming experience for fans of the franchise.
LBP Karting will of course feature the "Play, Create, Share" model and will also feature a competitvite and cooperative karting experience in a "expansive 3D environment." This is the first time a LBP title will be featured in a 3D space. All the classic Sackboy customization will be available to players including Sackboy costumes and of course their karts. United Front Games is attempting to provide a classic kart racing title that will also include objective-based missions, boss battles and mini-games. There will also be a lot of multiplayer action and the always popular arena battles.
"Our goal with LBP Karting has been fairly simple – provide a fast-paced experience that captures the best of classic karting gameplay, married with the unbridled creativity of LBP. This new adventure will be accessible to players of all ages and have all of the variety necessary to satisfy both the hardcore and more casual players."- James Grieve, Sr. Producer, United Front Games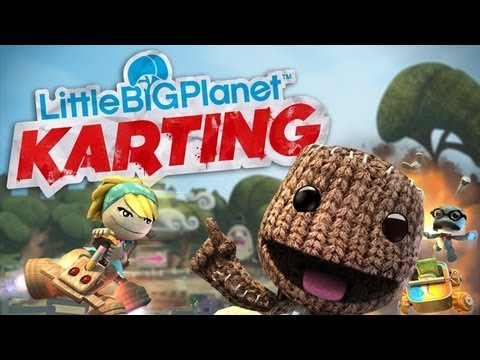 Outside of being able to design your own kart and character, United Front Games wants to give gamers the ability to create their own karting experience. The editor tools will allow gamers to make their own game rules, weapons, and tracks that are free from any constraints of a traditional racetrack, meaning you can create a level in a completely open environment. Obviously once you are done creating your own unique experience, you can share it online via the PlayStation Network.
As you can see from the screenshots and video, the LBP style is still there with karts made out of cardboard, and the easy/accessible customization screens from previous titles will return allowing for quick changes to your Sackboy or kart. Here are a few more quick facts about the upcoming title:
UFG is currently working on what can be done about importing DLC from previous titles.
A PlayStation Vita version is not currently being developed.
It will be supporting 3D
Load times are a huge issue with LBP but UFG is working on that and assures us that we will like the results
Competitive multiplayer is up to 8 players online in Races and battles along with other events.
That's all we know about LBP Karting for now, but feel free to check out the announcement screenshots and we'll keep you posted on this anticipated title.
[Source: Press Release]