Posted by Elizabeth Atkins | 1 Comment
New Trailer for Get Up And Dance Reveals New Modes, Artists, and Songs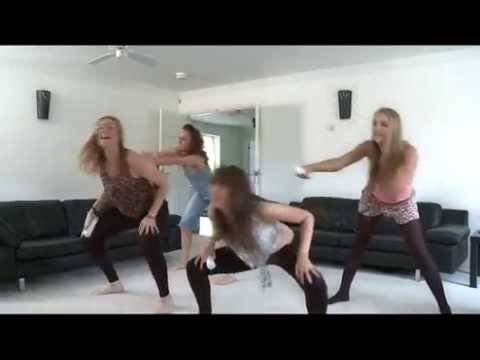 O-Games released the debut trailer for their upcoming dance party title, Get Up And Dance, today. Get Up And Dance will be available for both the PlayStation Move for the PS3 and the Wii this November. The trailer shows off players dancing to the hit beats such as Taio Cruz and The Pussycat Dolls in their chart-topping songs.
The different modes shown off include Party, Shape Up, and Group Mode. Party Mode allows for players to compete against friends in sub-modes like Tug of War, Last Man Standing, and Party Mix. Shape Up Mode is designed more to help players get in shape and stay fit while moving to the beat of the available songs. In Group Mode, players and their friends can form a dance troop and perform unique choreography as either a lead dancer or back-up.
From the chart-topping hits by Salt-N-Pepa and Jessie J to classic hits by Elton John and Lionel Ritchie, Get Up And Dance has titles for everyone in the family to enjoy.
Get Up And Dance™ Complete Track List:

Gwen Stefani – "What You Waiting For"
Taio Cruz – "Come On Girl"
Timbaland featuring Katy Perry – "If We Ever Meet Again"
Pussycat Dolls – "Don't Cha"
Nicole Scherzinger – "Poison"
Salt-N-Pepa – "Push It"
La Roux – "Bulletproof"
Girls Aloud – "The Promise"
Jessie J – 'Nobody's Perfect"
Donna Summer – "Hot Stuff'
Barenaked Ladies – "One Week"
Yolanda Be Cool and DCUP – "We Speak No Americano"
Elton John – "Saturday Night's Alright (For Fighting)"
Dusty Springfield – "I Only Want To Be With You"
Lionel Richie – "Dancing On The Ceiling"
Billy Ray Cyrus – "Achy Breaky Heart"
Vato Gonzalez featuring Foreign Beggars "Badman Riddim (Jump)"
Reel 2 Real Feat. The Mad Stuntman – "I Like to Move It"
Alexandra Stan – "Mr Saxobeat"
Apache Indian  – "Boom Shack-A-Lak"
Gina G – "Ooh Ahh… Just A Little Bit"
Black Kids – "I Am Not Going To Teach Your Boyfriend How To Dance"
De La Soul – "Me Myself and I"
Example – "Kickstarts"
Marina & The Diamonds – "Hollywood"
Noisettes – "Don't Upset The Rhythm"
Pulp – "Common People"
Rizzle Kicks – "Down With The Trumpets"
Wretch 32 Feat. Example – "Unorthodox"
Basement Jaxx – "Where's Your Head At"
Get Up And Dance is developed by Gusto Games and rated T for Teen. This dance party game is set to ship to retailers nationwide come November 15 for the PlayStation Move and Wii. MSRP will be $29.99 so those who enjoy this type of game might be interested in picking it up.
[Source: O-Games]