Posted by Eric Galaviz | 0 Comments
Xbox Week in Review (Week of 10/1/2011)
Kind of a slow week for Xbox news but there were some game announcements, Gears 3 news including first details on DLC, beta releases and a rumor of the big Xbox 360 Dashboard update coming in November. Here's what happened this week in the world of Xbox:
On Sunday Microsoft released an apology letter of sorts, admitting to wrongly banning Xbox Live accounts and consoles, majority of which occurred between August 29 and September 9. The bans went out to consoles that Microsoft believed  to have been modded. However, there were some Xbox Live users who were wrongly banned. Stephen Toulouse, head of Xbox Live Policy and Enforcement, publically apologized on Major Nelson's Blog and stated that those wrongly affected will be receiving 3-monts of Xbox Live Gold Subscription and 1600 MS Points. These will automatically appear on your account. Read the entire apology letter here.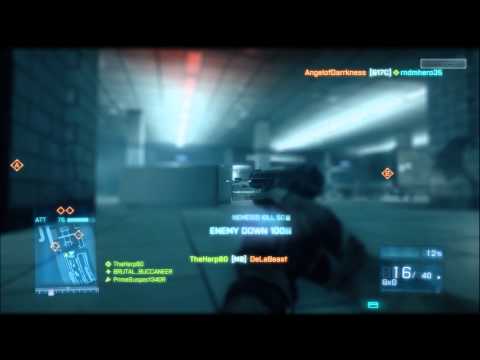 The Battlefield 3 Open Beta started on Thursday of this week and is available to download in the Game Marketplace under Demos. The beta includes only one mode (Rush) and one map (Operation Metro), but it is open to everyone. The beta runs until October 10th so if you haven't downloaded it yet, you might want to. Meanwhile you can check out our Beta Impressions and Multiplayer Beta Videos.
Metal Gear Solid HD is getting a Limited Edition. In addition to updated versions of Metal Gear Sold 2: Sons of Liberty, Metal Gear Solid 3: Snake Eater, and Metal Gear Solid: Peace Walker, the limited edition of the Metal Gear Solid HD Collection will contain a 248-page art book and special packaging illustrated by lead artist Yoji Shinkawa. The standard iteration of the MGS HD Collection will retail for $50, but Konami did not note a price for the limited edition.
I Am Alive, a once believed canceled title from Ubisoft, is coming back. Despite disappearing and sometimes appearing to be canceled, Ubisoft confirmed I Am Alive will be arriving on XBLA and PSN sometime this winter. The game focuses on a character who survives a major disaster and must survive in order to hopefully find his wife and daughter. Details are scarce at this time, although Ubisoft did confirm that a PC version of the game isn't planned at this time. They also said  that Players must manage their stamina and resources to survive in the embattled region, and they will climb to the tops of buildings to find essential items.
Announced on Major Nelson's Blog, Gears of War 3 sold more than three million copies in its first week. "Following more than 22,000 midnight madness launch events, Microsoft and Epic Games today announced that the Xbox 360 exclusive sold more than three million copies in its first week since release, cementing Gears 3 as the biggest game of 2011 and catapulting the franchise beyond one billion dollars in lifetime sales." Not really a surprise as it's one of the biggest franchises this generation and one of the most anticipated games this year.
In more Gears 3 news, A youtube video surfaced recently hinting at new multiplayer content. Epic announced awhile back that there will be at least four DLC packs, which will be included in the Season Pass. Though details are scarce, Cliff Blezinski stated on NeoGaf that future DLC "won't be the graphic novel, but it will have all new campaign content that doesn't have Marcus, Dom, Cole and Baird in it. Expect Barrick and more…" However in the video we do see some new multiplayer content so I guess we'll just have to wait for an official word from Epic.
We all know there will be a big Xbox 360 Dashboard update sometime before the end of the year and now there are rumors of the update hitting in November. As reported by Kotaku, a PayPal internal email pointed to a big Xbox 360 dashboard update coming November 15th. It wouldn't be a surprise seeing as big updates to the dashboard have previously released in November, as noted by Kotaku. The new dashboard is set to bring a new interface similar to the Windows phone interface and should bring us the much anticipated TV streaming service. No official word on this rumor but I'm sure we'll find out soon enough.
Finally in more DLC news, Portal 2 will be releasing a free DLC next week across Xbox 360, PS3 and PC. Titled Peer Review, the add-on content has been planned and in development for some time now. The new DLC will include co-op content featuring P-body and Atlas, and a new Challenge Mode which is both single player and co-op. The challenge mode will have people compete for high scores on leaderboards. Peer Review will be available for free on October 5th.
Not the biggest week in the world of Xbox but the new DLC is definitely exciting, especially the Portal 2 content. Make sure to check back with us next week for another Xbox Week in Review and be sure to check out Kyle's PlayStation Week in Review for all things Sony.
*Xbox Week in Review is a feature article that recaps the most interesting Xbox news of the week. We also run PlayStation Week in Review for all your PlayStation news of the week.