Posted by Rebecca Quintana | 0 Comments
Kirby: Return to Dreamland Trailer & Screens
Maybe it's just me, but it seems to me like Nintendo was keeping a lot of its games close to the chest this year, not even revealing many of them until recently.  Kirby: Return to Dreamland is one of these games that seemed to suddenly appear out of no where.  The game features traditional Kirby-style gameplay for the most part, but the twist is that you can play with up to three others (like New Super Mario Bros Wii). Check out the trailer below, and some screens.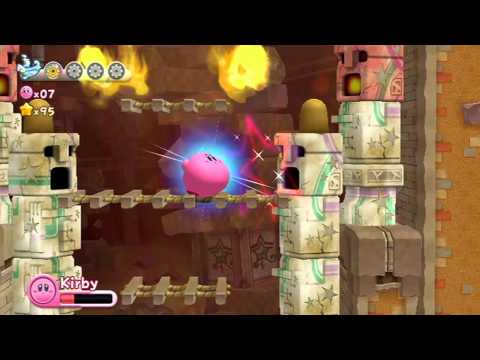 Some of the games' features include:
Kirby's powerful Copy Ability returns, allowing him to inhale, spit and transform as he encounters enemies.
Players can deploy classic and new abilities, including:

Sword: Kirby dons a green cap and wields a sword.
Beam: Kirby wears a jester hat and can shoot energy from a magic wand.
Whip: Kirby wears a cowboy hat and can lasso enemies.
Leaf: Kirby is surrounded by a whirlwind of leaves.

The game also introduces new Super Abilities, which are activated when Kirby inhales special enemy characters. For example, the "Ultra Sword" Super Ability allows Kirby to swing a giant sword and wipe out an entire screen's worth of foes.
Up to four players can enjoy the action together. (Additional controllers required and sold separately.) While playing cooperatively to progress through the game, players can join and leave the game at any time
Sound like your cup of tea? You can snag Kirby: RTDL on October 24, 2011.
[Source: Nintendo]