Posted by James Damian | 4 Comments
Xbox News Roundup Week Of August 4, 2011
Although our Xbox LIVE Marketplace Update was skimpy this week, we've got some pretty good news to make up for it in the first Xbox News Roundup.
Call Of Duty: Black Ops is releasing a fourth map pack titled "Rezurrection" this year and it's slated to hit Xbox LIVE August 23.  As with the previous packs, this will be a timed exclusive and will be released eventually for PSN and PC.  The pack includes the all new Moon level, the four remaster zombie maps (also included in the Hardened and Prestige editions), an enhanced zombie soundtrack including three new songs, and a new Moon theme.  For those that purchased the Hardened or Prestige editions, they'll be able to download the extras for free.  For everyone else the map pack once again is sold for the premium 1200 Microsoft Points.
The Gold Member Deal Of The Week is a 30% discount on changing your gamertag.  Originally priced at 800 points, this week you can make the change for 560 points.  This is the first time that Microsoft has done this so if you've been thinking about changing your name, now would be the time to do so. The Xbox LIVE Deal Of The Week is 30% off of changing your gamertag.  Normally priced at 800 Microsoft points, change yours this week for only 560.  This seems to be the first time this feature has been discounted so if you've ever thought about changing your tag, now would be the time to do so.
The 3rd title from the annual Summer Of Arcade has been released this week and it's the side-scrolling adventure Insanely Twisted Shadow Planet. This dark Metroidesque title has garnered above average scores and you can check out my review here to see what I thought about it.
Xbox and Epic recently released some Gears Of War 3 footage showing off the new Horde 2.0 mode.  Teams of five face off against waves of enemies while capturing bases and setting up defenses.  The trailer also features the Bodycount song Five Against All with leadman Ice-T (who also voices one of the characters in the game.)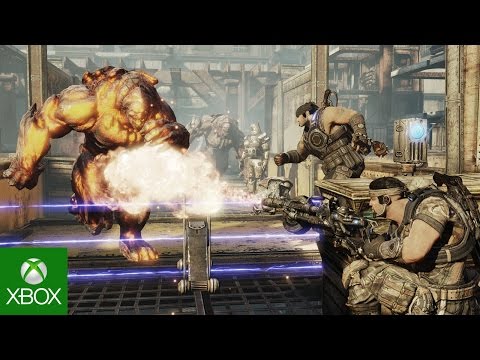 Winbeta.org has reported that Microsoft has created a special team to help filter offensive content on Xbox LIVE.  With subscribers at an all-time high (over 35 million and counting) it's understandable that there are more complaints being filed.  Microsoft is taking note and attempting to enforce their code of conduct as best as possible.  The new team has stated that a small percentage (around 1%) is typically flagged with the majority of users not being an issue.
Windows Phone has got their own Deal Of The Week with ilomilo and Cro-Mag Rally for the low price of $2.99 each.  ilomilo is the charming puzzler where you must reunite the two friends while manipulating the 3D space.  Cro-Mag Rally is a racing game set in the stone age that is a Windows Phone exclusive.
2K Games and Gearbox has announced a sequel to their RPG/FPS hybrid Borderlands, due out sometime during their fiscal year (beginning April 1) in 2013.  Game Informer has posted their September cover art featuring Borderlands 2 and the magazine boasts 12 pages of exclusive features detailing improved mission structure, weapons, story and other key components.  The magazine should be arriving in subscribers mailboxes shortly and appearing on newstands (and GameStop) sometime after.
Originally intended to be a downloadable title, Twisted Pixel's upcoming The Gunstringer has actually been greenlit for a retail release.  While that may disappoint those expecting a cheaper title, the game will be $39.99 and will include Fruit Ninja Kinect and a free add-on titled "The Wavy Tube Man Chronicles."  If you pre-order the game, you'll be given two tokens which give players a free avatar prop.  The Gunstringer/Fruit Ninja Kinect is set to release September 13.
EA SPORTS has released a new download titled The Season Ticket for Xbox LIVE and PSN.  For $24.99 (for 12 month access) players will get four benefits for five EA SPORTS titles including Madden, NHL, TIGER WOODS, FIFA, and NCAA FOOTBALL. The four benefits are being able to play the game three days before retail release, a 20% discount on all DLC for the titles, premium web content allowing altering your in-game experience, and a badge that appears on your Gamertag or PSN ID.
That's it for this weeks edition of Xbox News Roundup.  The Summer Of Arcade is firing out some winners and Kinect users have Fruit Ninja Kinect to look forward to download next week.  Post your comments and thoughts below and let us know if we may have missed any big headlines regarding the Xbox 360.
*Xbox News Round Up is a feature article that will run every week recapping the most interesting Xbox news during the week. We also have a PlayStation News Round Up for all your PlayStation news of the week.