Posted by Eric Galaviz | 0 Comments
180 Ultra Review
Match-3 puzzlers have always been truly addicting, from Bewjeweled to Bust-a-Move, and there's nothing quite like a match-three game to kill time. Now with all these new devices I don't know if I've ever seen so many match-three games in my life, but most of them are simply boring. 180, on the other hand, isn't. By truly utilizing the touch screen and offering challenging modes, 180 is an addictive puzzler perfect for anyone who enjoys the genre.
Developed by Headcase Games, 180 isn't your traditional match-3 game.  The traditional gameplay of a bunch of coins slowly moving down the screen remains, but what sets 180 apart is the utilization of the touch screen. Instead of simply moving coins around to match three colors, each coin has two colors and you can flip the coin around to try to create the biggest combo. Much like Bust-a-Move, you shoot a coin anywhere you want to create a match of three colors, but the ability to change the colors before you shoot your coin changes what would be an average game into an exciting one.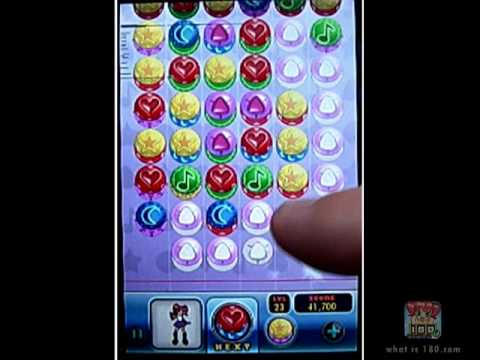 The game challenges your reflexes and skills with the flip feature, and this is where the touch screen makes the game so great. Having to tap every coin to flip it over and then tap the screen again to aim where you want the coin to go gives you a sense of urgency you might not get in other puzzlers. So many match-3 games don't offer any sort of challenge, but the different modes in 180 will really challenge you.
In 180 the various modes offers casual and hardcore players a challenge. Endless mode is basically like the classic Tetris mode, where you clear coins and the rate at which the coins fall increases as you go up in level. Endless is a great mode to play when you have more time on your hands, especially because the increase in difficulty is gradual. It also offers a good challenge, because as you progress you'll see more than just the standard three colors. Even with only two extra colors, the new coins that come into play make the game that much harder, but at the same time more enjoyable.
Score attack is a quick game to see how many points you can get in 90 seconds. While this mode isn't my favorite, it does offer a change in pace because you have to decide if you want to take the time to clear a large set of coins or simply clear as many coins as possible.
Time Attack is one of my favorite modes and is also the one of the hardest. Here you a given an unlimited amount of time but have to clear 250 coins as fast as you can. As easy as it sounds, even on easy it can be a bit tricky. As soon as the extra colors show up you might find it hard to get to the 250 mark and missing it just by a few coins is frustrating but that's just another reason to play it again.
My favorite mode in 180 is Drop Attack. This mode gives 90 seconds to build up as many lines as possible. While it is a short mode, trying to clear as many lines as possible while also forcing the lines to drop down is really addicting, especially when you are trying to unlock achievements. My only issue with this mode is the timer doesn't stop when you clear a line; this means when you get a big combo the timer keeps going during the animation. This can be really frustrating since you only have 90 seconds. Another issue I found is that after clearing a line you can't always use the drop down button right away; sometimes you are forced to wait a few seconds. As frustrating as this is, hopefully it can be fixed in an update.
The colorful HD visuals will run on most devices, including tablets (which I think is the best way to play it), but some older devices won't run 180 all that well, and since it's a touch screen game, you might not enjoy it that much. Already there are times where I am flipping coins and I'll inadvertently launch my coin because some part of my hand touched the screen and there are times where launching a coin close to the bottom of the screen becomes nearly impossible, so if you are on a lower-end device you might want to stay clear. If you have a new phone or tablet, though, these issues can be overlooked. I would have liked to have seen a little more done with the characters in the game as well, since they just seem to serve as background images, but these really are the only issues I had with the game.
Overall 180 is a great puzzler. It takes the classic match 3, drop-down style and gives it a new feature. While 180 is challenging, the Easy difficulty really eases casual fans into the game and the harder difficulty is perfect for hardcore gamers as it starts you off at a higher level. There's also Openfeint support with some great achievements to unlock. With so many modes, 180 is the type of game you can pick up just for a few minutes or sit down and play for a few hours.  I generally stay away from these games since most are boring, but Headcase Games found a way to bring me back into the genre. Best of all, it's free, and new modes can be unlocked by simply playing the game, though I suggest paying for it right away just to get all the modes right from the start. If you love match 3 puzzlers, you need to get 180.
180 Ultra



Platform: Android (reviewed HTC G2, Motorola Xoom), iPhone, iPod Touch, iPad
Genre: Puzzle
Release Date: 6/22/11
Developer: Headcase Games
Publisher: Headcase Games
ESRB Rating: Everyone
MSRP: $1.99 or Free with Ads (Android), $0.99 (iPhone)