Posted by James Damian | 0 Comments
E3: Kinect Star Wars Gameplay Demo
LucasArts and Microsoft Studios showed off a demo of their upcoming Kinect Star Wars at E3 yesterday.  For fans of the Star Wars franchise or anyone looking to reenact being a Jedi, this game is supposed to help you feel more like Luke Skywalker.  Sadly, the force is pretty weak in this demo showcasing gameplay akin to on-rails shooters and controls that lack precision.  See for yourself: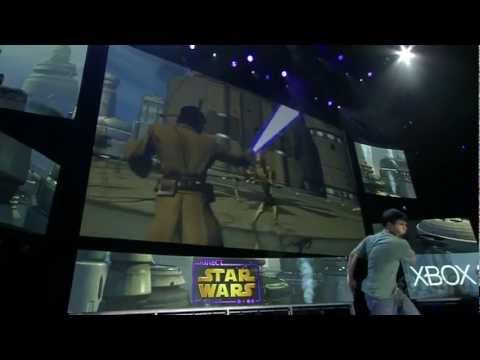 There appears to be a significant lag from your movements compared to your onscreen counterpart and "deflecting bullets" hardly seems to require any precision.  The player looks to have no control of his characters movement aside from swiping a lightsaber and dashing towards the enemies.  We're still nearly half a year from the projected release date, so maybe they can work on the lag and lack of quality gameplay, but for now, the game looks to be disappointing.  However, I guess it's better then the "demo" trailer shown last year.
Kinect Star Wars is set to release December 31 for the Xbox 360.
[Source: YouTube]