Posted by Elizabeth Atkins | 0 Comments
1 Million Demo Downloads Made; Mr. Toots to be Unlocked in Red Faction: Armageddon
THQ promised to release the mythical rainbow-farting playable weapon, Mr. Toots, in Red Faction: Armageddon if one million downloads of the demo were achieved. Even the PSN being down and the PC not seeing a demo couldn't stop gamers from hitting the goal set by THQ.
Mr. Toots isn't the first weapon of his nature to be in a Volition title. And from the YouTube video of Mr. Toots, he's not a weapon one would want to upset. A miniature unicorn that emits rainbows of destruction from his rear end, Mr. Toots is one weapon that the opposition on Mars is going to wish never showed up on the planet.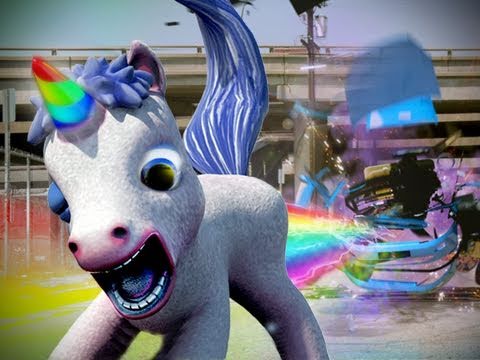 Red Faction: Armageddon is set to be released on July 7 for the PlayStation 3, PC, and Xbox 360 consoles. Now gamers will have one more ace up their sleeves in the battle for salvation on Mars.
[Source: THQ]