Posted by Eric Galaviz | 0 Comments
Hulu Plus on Xbox 360 Impressions
Hulu Plus has finally made its way on to the Xbox 360 today. As most gamers know, Hulu Plus was previously only available on the PS3 but today 360 owners finally get their chance to stream Hulu on their consoles. I got a chance today to check it out and those who use Netflix on the Xbox 360 will notice that Hulu Plus features the same interface. While there are some issues, Hulu Plus seems to run just fine on the 360.
Hulu Plus is a paid subscription service provided by Hulu which allows people to stream movies and television shows on various devices. Hulu is great for keeping up with the most recent TV shows but Hulu Plus allows you to access the entire series of some shows like The Office of X-Files
The interface is almost identical to that of the Netflix interface. On the left hand side you'll see a list of options including Popular Shows, Popular Episodes, Featured, Recently Added Episodes and Search. Just like the Netflix app each episode or show is displayed horizontally and you'll have the option to add each clip or episode to your queue from any section. However as of now the Add to Queue feature isn't working all that quickly so you might not see the episode in your queue right away.
Once you select the episode or TV Show you'll go to another screen that displays the episode list, season list and a brief overview of each episode. Once you select your video the controls to pause or fast forward the video are the same as any other video you are watching on the 360. It will save your progress if you stop watching at any point but expect to have to sit through a commercial if you don't go back to the show right away. In terms of quality Hulu Plus offers a great HD picture and seems to be on par with Netflix. This depends on your internet speed of course but you can always set it to default to a lower quality if you have a slower connection.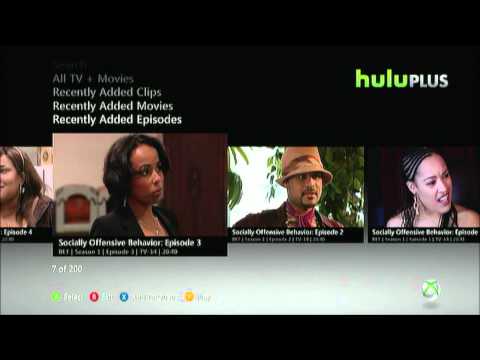 There are some differences between the PS3 and 360 versions but most of it is with the interface. The PS3 offers a Subscriptions section that lets you easily find your favorite shows, which is really nice and convenient. The PS3 also allows you to search for other shows while the current one is playing. The show that is playing will move to the corner in a Picture-in-Picture style and you can search or add shows without missing anything. Other than the overall interface design, I really hope Hulu updates the 360 app to include these functions.
There are some bugs and that's to be expected with the app just releasing today so expect to have to quit to the dashboard a few times. Other than a few issues, Hulu Plus on Xbox 360 is a great service, if you like TV Shows, if you don't than this isn't for you. Hulu Plus is in a free trial mode for the first week but if you have a student email address than you can sign up for a full month for free via the Hulu Plus page. But like I said it's all up to how much you watch TV Shows. Hulu Plus doesn't offer much else of any interest other than the most recent shows on network television. You also have to keep in mind that not every show can be streamed on the 360. As you can see in the video posted some shows are tagged as Web Only. You also have to remember that you will sit through a few 30 sec – 60 sec commercials. Just because you pay for Hulu Plus doesn't mean its commercial free. If you already have Netflix you might not need Hulu Plus but give it a try if you like it, it's only $7.99 a month. Take the opportunity to try it for free for one week and see if it's for you.