Posted by Alex Sanderson | 0 Comments
WonderCon Hands-On Preview: High Flyer Death Defyer
This weekend I had the opportunity to attend WonderCon in San Francisco. It was a great event to check out, but is also mainly known for comics and movies. In the middle there was a small representation for the gaming industry. One of the companies representing that industry was the small indie developer Game Mechanic Studios. They had a small booth in "Artists Alley" where they were showing the trailer for their latest mobile game High Flyer Death Defyer.
I had a chance to sit down with Creative Director, President, and Co-founder of the company, Jason Alejandre. He first showed me the trailer (which can be seen below), which is also the company's first original IP. High Flyer is a third-person action game where the main character is in free fall, collecting treasure and dodging traps in the sky. The game makes use of the accelerometer, which you use to move the character around from side to side and up and down the screen. You can also use the touch capabilities to go into a dive or barrel roll to effectively dodge traps. When you're not falling through the sky, the game offers you points where you can land such as enlarged treasure chests, where you solve the puzzles to unlock the treasure within. It also has floating islands that serve as checkpoints that will also offer a ground element to the game to break up the free fall aspect.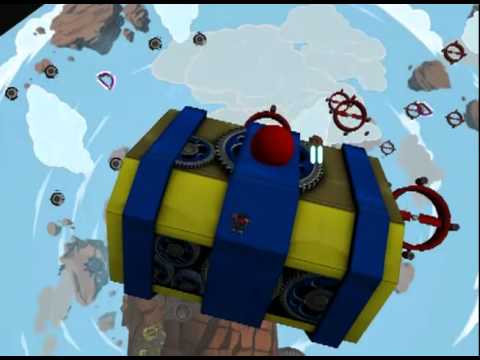 From the time I spent playing it, it seems like it is shaping up to be a pretty solid mobile platformer that could become very addicting. Jason and the other developers over at Game Mechanic Studios are shooting for a Summer 2011 release on the iOS and Android platforms.
Keep checking back for more coverage on HFDD and other upcoming mobile games.